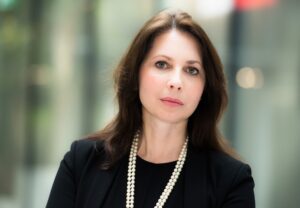 Dagmara Wieczorek-Bartczak is a member of the Management Board of the Bank Guarantee Fund since 1 February 2022. She oversees the preparation of the Fund to the resolution authority role in the insurance sector.
For over 22 years Ms. Wieczorek-Bartczak was working at the Financial Supervision Authority Office, where, inter alia, she was the Managing Director of the Insurance Supervision Division, and in 2019-2021 she was the Deputy Chair of the Polish Financial Supervision Authority, responsible for supervision over the insurance sector. In 2009-2016 she was the Deputy Chairperson of the Audit Oversight Commission. She also worked in the consultancy company Ernst & Young Business Advisory.
Ms. Wieczorek-Bartczak is a graduate of mathematics at the University of Lodz, and completed PhD studies and postgraduate studies at the Warsaw School of Economics, the latter in the field of risk management in financial institutions.